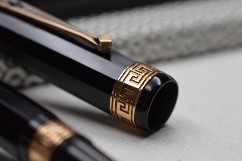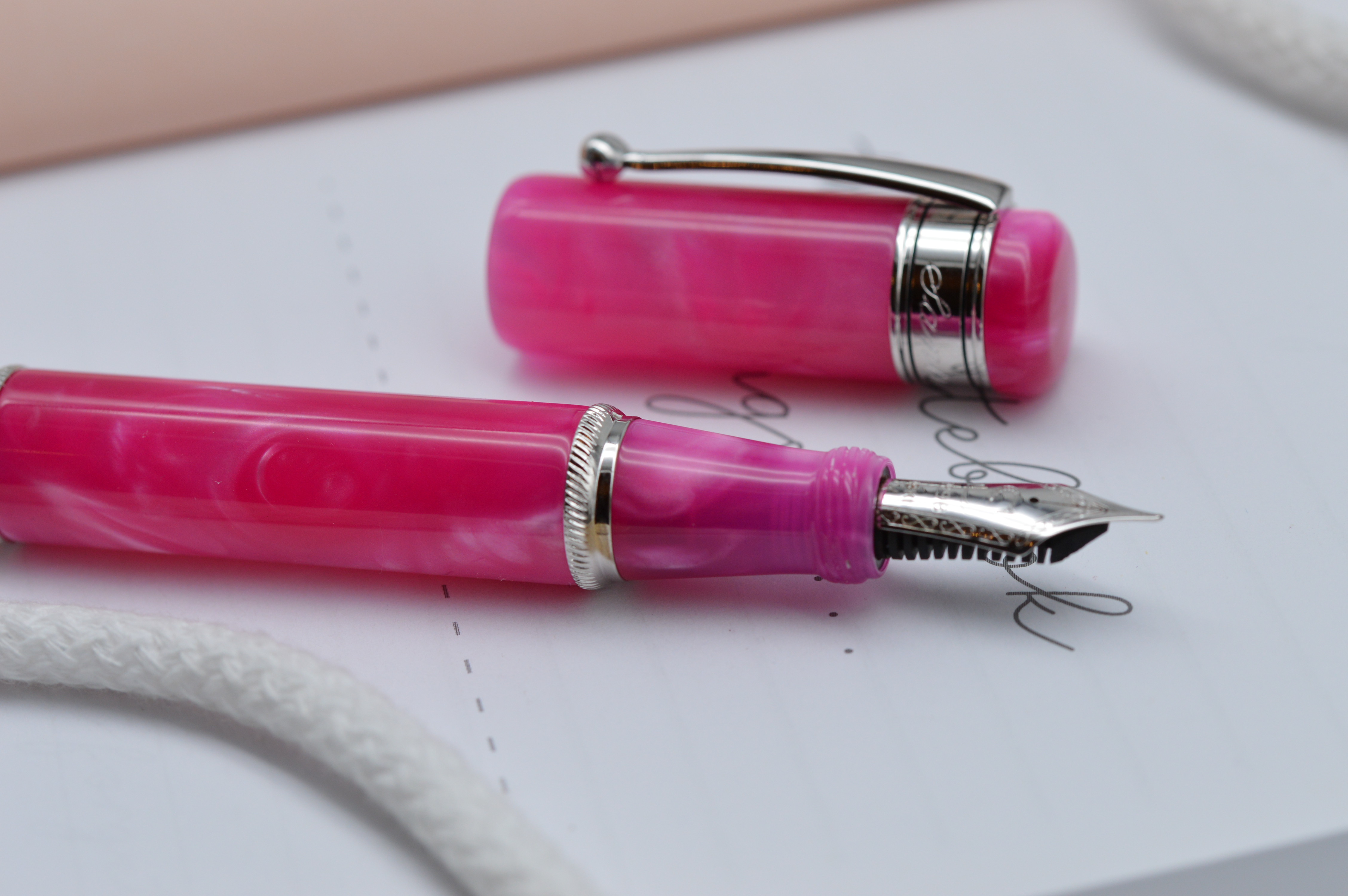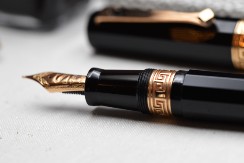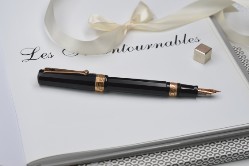 I T A L I A N H E R I T A G E
_________
_________
_________
The style of a gentelman.
Fine details and superior craftsmanship are two things of many that we look for in fountain pens.
Something a little more timeless.
The Black Diamond is a pen that will stand the test of time!
Solid Rose Gold nib 18 Kt

dispatch time 15 business days

Add
Details
Black is the most difficult color to achieve a perfect surface.
That is the reason why we called our new model Black Diamond.
Its
ref
ined
processing requires
a
special
instrumentation
and
manual
skills
to
obtain
a
perfect
brilliant
surface
.
The precious 3D Greek style rings that decorate the body and cap, are made from fusion of solid bronze as in the best tradition of Italian goldsmithing.
Like a jewel the rings are obtained by melting and finished in detail and polished completely by hand before being plated and mounted on the pen.
The clip is enamelled by hand.
All
these
works
make
the
pen
a
jewel
of
artgian
craftsmanshi
p
and
creative
Italian heritage
.
Solid rose gold nib 18 Kt and ebonite feeder.
The metal parts of this pen are made in solid bronze, not plated, not treated, polished by hand, a pure natural look.
100% made in Italy, 100% Italian class.
Precious
as
a
diamond
.
Available in solid bronze, gold and silver plated version.
Features


black machined acrylic resin body/cap

twelve facets

rings: solid bronze (not plated)

clip: solid bronze (not plated)

piston filling system

18 KT solid rose gold nib size 6

ebonite feeder

hand enameled clip

limited Edition

International warranty

100% Made In Italy
Specifications

Length cap posted:
182 mm
Nib sizes:
M, F, EF, B, STUB, F Flexy, Italic, Flexy
Please note,
if you order B, Stub, Flexy, Italic nib
we need 3 - 5 days more to dispatch your order
A superflexy nib is only available in gold version
Shipping Information:

Dispatch time:
5 working days*
Europe delivery UPS:
2 - 4 working days
USA/ Canada delivery UPS:
3 - 5 working days
Worldwide delivery:
5 - 10 working days
ADD TO MY ORDER
Add

Immediate availability
Add
Immediate availability
Add

Immediate availability
Add
Please don't hesitate to contact us via email or Live Chat!
We are always happy to help!