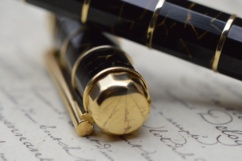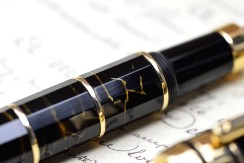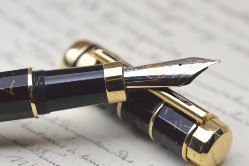 V I N T A G E C E L L U L O I D
_________
_________
_________
Celluloid material is obtained from wood cellulose, it is a material which embodies all the qualities that make a perfect pen:
bright look, light weight, robustness, pleasant feel and extraordinary combination of color.

sold out
Add
Details
The project was conceived on the discovery of vintage celluloid produced in Italy. The most classic and elegant material used for the production of fountain pens.
Brown celluloid with golden veins and grey celluloid with deep reflections. We chose the most complex work that exalted all the beauty of the material: every single element has been faceted and enriched with a gold-plated rings that emphasizes all the beauty of celluloid material.
The result is a writing instrument that has no compromises for its complexity of workmanship, all expertly manual.
Balance, simplicity of lines and elegance. This was our project to enhance the beauty of this material. The pen comes with a precious Santini two-tone 18-carat gold number 8 nib, a true Italian craftsmanship.
100% made in Italy, 100% Italian class.
Limited Edition 30 pcs.
Features


vintage celluloid Mazzucchelli

twelve facets

rings: brass gold plated 3 micron

piston filling system

18 KT gold nib size 8

two-tone nib

ebonite feeder

hand enameled clip

limited Edition

International warranty

100% Made In Italy
Specifications

Length pen body:
118,8 mm
Nib sizes:
M, F, EF, B, STUB, ITALIC, ARCHITECT, CHINESE, OBLIQUE
Flexy nib:
available in all sizes
Please note,
if you order Architect, Stub, Flexy, Italic nib
we may need 3 - 5 days more to dispatch your order
Pure gold nib (not two-tone) is availabe on request
Shipping Information:

Dispatch time:
15 working days*
Europe delivery UPS/FedEx:
3 - 5 business
days
USA/ Canada delivery UPS:
3 - 5 business days
Worldwide delivery:
5 - 10 business days
Please don't hesitate to contact us via email or Live Chat!
We are always happy to help!