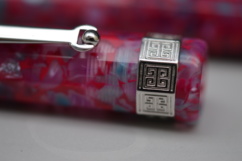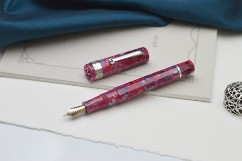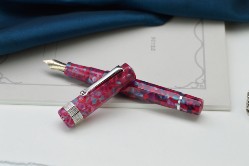 I T A L I A N H E R I T A G E
_________
_________
_________
A new diamond complements Santini Italia's range of faceted pens.
Nonagon, the design of a nine-sided pen. Born to accentuate all the unique and precious geometry of this model.
Now available in acrylic resin.
SOLD OUT

Add
Details
The geometric design emblematic of the Nonagon collection marries elegance and modernity.
With their square facets, the Nonagon Classic fountain pens embody style, sophistication and glamour.
3D ring design is made by lost - wax technique like in the best jewelry craftsmanship.
Each pen is timelessly elegant and offers outstanding writing comfort. Piston filling system,
solid white gold nib 18 kt.
100% made in Italy, 100% Italian class.
Features


machined ebonite body/cap

color: blue/teal, yellow

nine facets

piston filling system

18 KT gold nib size 6

ebonite feeder

gold plated trim

limited edition ebonite

International warranty
Specifications

Nib sizes:
M, F, EF, B, STUB, F Flexy, Italic, Flexy
Please note,
if you order B, Stub, Flexy, Italic nib
we may need 3 - 5 days more to dispatch your order
Shipping Information:

Dispatch time:
5/7 working days*
Europe delivery UPS:
2 - 4 working days
USA/ Canada delivery UPS:
3 - 5 working days
Worldwide delivery:
5 - 10 working days
ADD TO MY ORDER
Add

in stock
dispatch time 7 working days

Immediate availability
Add

low stock
dispatch time 7 working days

Immediate availability
Add
Please don't hesitate to contact us via email or Live Chat!
We are always happy to help!