Thanks to our experience, gained through years of work, our passion and our manufacturing skills,
we are able to offer you a valuable and exclusive product, designed for everyone.
SUMMER HOLIDAYS CLOSURE
We inform our clients that our company will be closed for the summer holidays
from 1 August to 31 August 2020 included.
All orders placed in July will be regularly shipped!
Orders placed from 1st August 2020 will be processed and shipped from 4th September 2020


The new Diamond Collection coming in three version
bronze & rose gold nib, gold and rhodium
PISTON FILLING | 18 KT GOLD NIB | EBONITE FEEDER | FACETED BLACK ACRYLIC | ENAMELED CLIP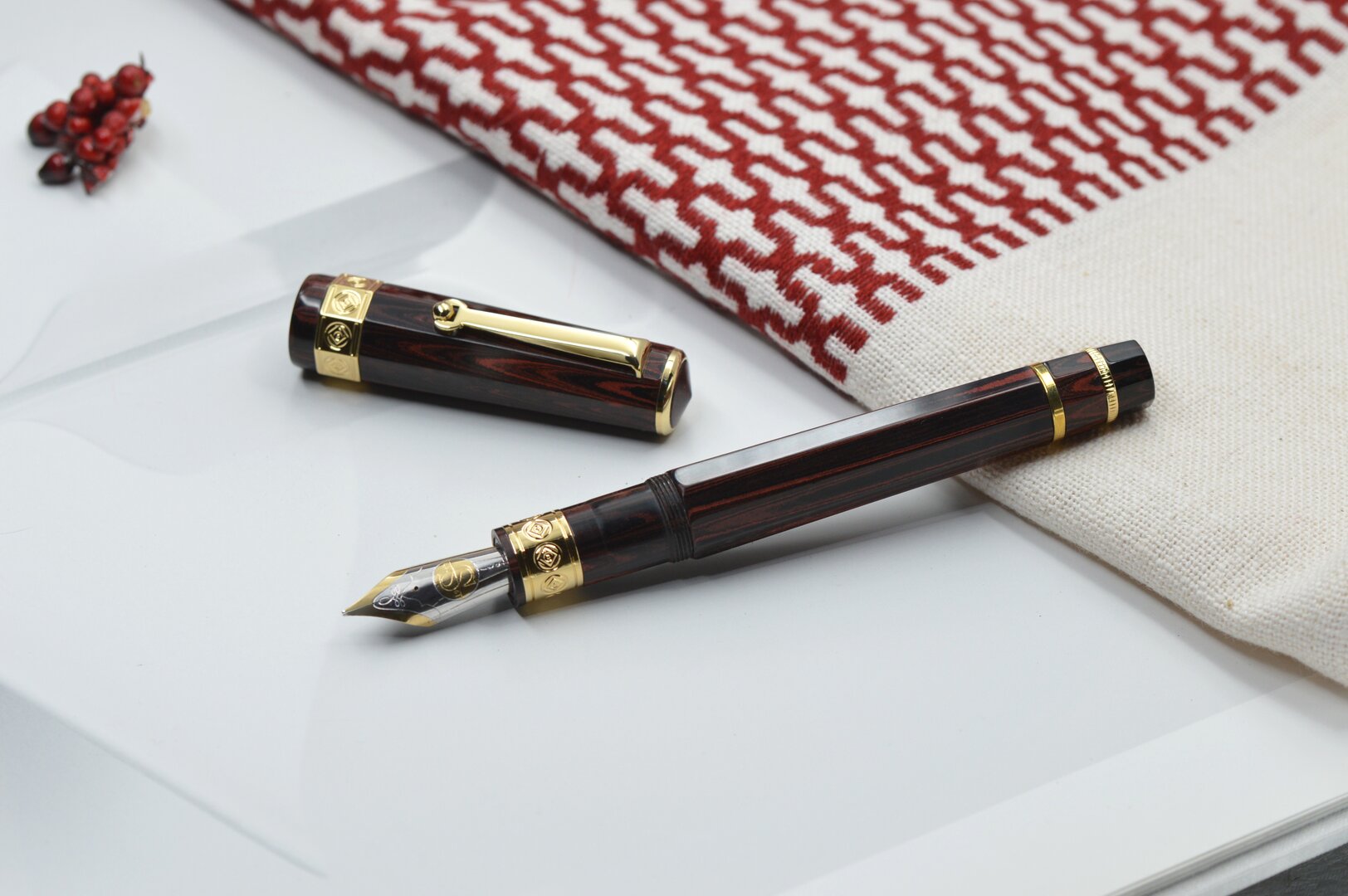 Solid Rose Gold nib 18 kt
Completely produced by a 18 Kt rose gold stripe.
To create this nib we used a alloy that kept the 750 thousandths of pure gold, but adding for the rest of the alloy only copper
and
it
was
necessary
to
develop
a
differentiated
production
,
as
the
metal
made
harder
by
copper
needs
several
rolling
passages
to
prevent
the
too
hardened
metal
from
breaking.
A real Italian craftsmanship. Available on Libra Cumberland Bronze model.
Dear customers and enthusiasts of pens!
Our company has been closed since March for the lockdown in Italy and now we are ready to start!
Many of our products in online store went sold out and we did not have a possibility to continue our production. We apologize for any inconvenience.
Now, that we are going to restart, we are more strong and motivated than ever!
We kindly ask you to be patient, all current orders will be regularly shipped and our stock will be update as soon as possible!
Thank you all for being with us!
momentary dispatch time on orders 5/7 working days
A small company at your service
We do not just sell a product.
We design personal and unique writing instruments focusing on manufacturing skills, rather than on expensive advertising. A dedicated support service is available to offer you technical support, but also to collect your suggestions, so as to forge our products over time according to your needs, because quality is more important than a good advertising campaign.
On big request Toscana is back
fountain pens & rollerballs
available in colors: turquoise, violet, yellow, red, light blue, green
Best choice for everyday use
Try Toscana fountain pen
from a classic everyday product
to a sophisticated and exclusive piece of Art,
completely created and produced in our laboratory.
__________
__________
__________
The best product for the best result
All our pens have 18 Kt gold nib, like gold jewellery:
the best product for best results, because we do not compromise on quality.
Our writing instruments, including silver trim and solid silver pens, have always the best material/quality/price ratio on the market.
Just look around to see if you can find a better product for the quality/price!




Free World Wide Shipping
Free shipping on all pens
Your satisfaction is our priority
assistance on all products